Name: Bill

Position: Merchandise Manager

Hometown: Louisville, KY

Years in the Music Business: 9

What Other Artist Have You Worked For?
Restless Heart, Exile, Little Texas, Blackhawk, Barbara Mandrell, Eddie Rabbit, John Denver, Tanya Tucker, David Ball, Donna Summer

Who Are Your Musical Influences?
Billy Joel, Lionel Ritchie, Eagles, Elvis Presley

Quote?
" Today is a good day to die " ....from "Little Big Man"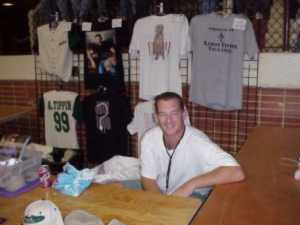 Courtesy of Official Aaron Tippin Website